Delivery Information
FAST SHIPPING - All Year Round: we usually ship your order within 24 hours.
This means that, if you order received by us before 3:00 pm, Monday to Friday (excluding Bank Holiday) and we have your items in stock, you may get it next working day* (England, Wales and The Scottish Mainland) or within 2-5 working days (Northern Ireland and Scottish Highland). *Exclusive orders contain long lengths (e.g. u-channels, seals...). A signature may be required for delivery, please kindly ensure that there will be someone to sign for the parcel at the delivery address.
We've put together a guide for you so you know what delivery charges to expect. Full delivery costs are displayed to you in your shopping basket and are confirmed to you before you checkout. We endeavour to keep delivery schedules as efficient and cost effective as possible. Scroll down the page for general information about UK delivery. Please ensure you enter the correct Delivery Zone as we reserve the right to amend incorrectly entered shipping rates or cancel your orders.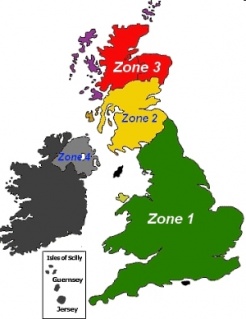 Zone 1 (England, Wales)

AL, B, BA, BB, BD, BH, BL, BN, BR, BS, CA, CB, CF, CH, CM, CO, CR, CT, CV, CW, DA, DE, DG, DH, DL, DN, DT, DY, E, EC, EH, EN, EX, FK1-18, FY, G, GL, GU, HA, HD, HG, HP, HR, HU, HX, IG, IP, KA1-26, KT, L, LA, LD, LE, LL, LN, LS, LU, M, ME, MK,ML, N, NE, NG, NN, NP, NR, NW, OL, OX, PA1-19, PE, PL, PO1-29, PR, RG, RH, RM, S, SA, SE, SG, SK, SL, SM, SN, SO, SP, SR, SS, ST, SW, SY, TA, TD, TF, TN, TQ, TR, TS, TW, UB, W, WA, WC, WD, WF, WN, WR, WS, WV, YO
Zone 2 (Scottish Mainland)

AB1-3, AB9-16, AB21-25, AB30, AB39, DD1-11, KY13, PH1, PH2, PH11, PH12, PH13, PH14
Zone 3 (Scottish Highland)

AB31-38, AB41-56, FK19-21, HS1-9, IV1-56, KA27-30, KW1-17, PA20-49, PA60-88, PH1-10, PH15-44
Zone 4 (Northern Ireland)
BT1 - BT18+
Isle of Wight
PO30, PO31, PO32, PO33, PO34, PO35, PO36, PO37, PO38, PO39, PO40, PO41
Other Areas
Scottish Offshore Islands, Channel Islands, Alderney, Herm and Sark, EIRE & other EU countries. Please Contact Us for shipping quote.

England & Wales
(Zone 1)


Scottish Mainland
(Zone 2)

Scottish Highland
(Zone 3)

Northern Ireland
(Zone 4)

Isle of Wight

Express: next working day

Express: next working day

Express: 2 - 5 working days

Economy: 2 - 5 working days

Express: next working day

Weight (kg)

Price (£ GBP)

Price (£ GBP)

Price (£ GBP)

Price (£ GBP)

Price (£ GBP)

0.00-1.00

7.99

7.99

11

11

11

1.00-2.00

9.99

9.99

13.50

13.50

13.50

2.00-5.00

16.04

17.50

15.50
-
17.50

5.00-10.00

10.99

10.99

18.74

10.00-100.00

from 12.99

from 12.99

from 19.99

from 19.99

from 21.00
You can find out exactly how you the delivery will cost you before you check-out:

Please Note:
We rely on a third party (our couriers), once order has been dispatched the delivery of any order is out of our control. Therefore we are unable to guarantee delivery services. However, over 98.5% of deliveries are achieved on time.
Before 9:00am / 10:00am / 12:00pm and Saturday / Sunday Delivery available upon request, subjects to surcharge.

Certain long lengths items (e.g. Support Bar, U-channel, Shower Door Seal, handrails) cost more than standard shipping cost, please see individual items page for details.



Delivery Procedure
Although not always possible and only as a courtesy, we will endeavour to inform you, usually by email on the day of despatch, that your order has been sent. Please be aware however, that it is your responsibility to be available to receive the consignment at all times from the time the order is placed. Delivery will be carried out by DPD, FedEx, Parcel Force or Royal Mail and your parcel will need signing for (unless we have been instructed by you to leave the consignment in a designated place unattended and unsigned for*. Please note that this is entirely at your own risk as we cannot accept any liability for lost, damage or stolen items).
Although multiple delivery attempts may be made (at the discretion of the individual carrier company involved), only one delivery attempt per consignment is guaranteed. Deliveries will be performed between 7amand 6pm Monday to Friday inclusive. If a private carrier company is unable to deliver they may leave a contact card with details of how to arrange redelivery or collection of the consignment from their depot. The private carrier company will hold the consignment at their depot for 3-5 working days while they await contact from you. If 3-5 working days expire with no contact from you the consignment will be returned to us. Royal Mail will leave a note informing you there is a parcel at your local Post Office. Similarly, they will hold the parcel at your local sorting office for up to 5 working days before returning it to us.
If your consignment is returned to us undelivered, then your order will be cancelled immediately. We will do one of the following; 1.) Refund the cost of the goods less the original delivery cost and return delivery cost. 2.) In the case of custom-made items / special ordered items no further action or refund will be made.
What happens if I'm out when you deliver?
We require a signature upon delivery of your item so please ensure that there will be someone in to sign for the parcel on the day of delivery. If you are not at home when the courier attempts to make delivery, they may try a neighbour or try next day and leave you a card explaining where your parcel is and the procedure for collection. Your should contact them to arrange redelivery or collection, if no response by courier, your parcel will be returned to us. In this case, your order will be cancelled and we will refund the price you paid excluding shipping cost.
Can I return my goods to you?
You may return your order at any time within 14 working days of receipt of the Products (s) and receive are fund of the price paid excluding shipping cost. You must communicate such cancellation and return the Product(s) to us by writing to us via email or letter. After obtain your Return Authorization (RMA) number, and then you can return the Product(s) to us at your cost. All goods must be returned in original package and resalable condition before we can issue a refund.
Special Notes:
Shipping charges are not reimbursable unless the goods are faulty.
Return shipping charges for parcels that are refused will be deducted from your refund. All returns will be credited using the original form of payment.
If you are receiving a credit card refund, please allow up to 10days for your credit to appear.
We cannot accept opened or used merchandise.
For more information about return policy, please see our '14 Days Money Back Guarantee' at Return Policy Page.

Please Note:
Courier company terms and conditions of service includes clauses that allow timed deliveries to be up to 120 minutes late without penalty due to worsening traffic, congestion and parking problems. Not often applicable but please bear with them.
All courier deliveries must be signed for as 'UNCHECKED' if not being inspected in detailing front of the delivery driver. This will cover you and Kerol Hardware for any damage later found for insurance purposes. Any package and item damages and discrepancies must be clearly noted on carrier's consignment note at the time of delivery and reported to us before 2:00pm next working day. Photographs will help solving the matter faster. We check every item for quality before despatch! It is receiver's responsibility to check goods on receipt. The seller/carrier shall not be liable if goods are signed for without written comment "damaged" or if they are signed as "in good condition", and therefore seller will not be able to provide free replacement or refund, although we will do our best to resolve issue on your behalf.