Patch Fittings
Limited only by your imagination, our range of Patch Fittings assemblies offer the perfect solution for functional and aesthetic Commercial Glass Door setups. With an attractive satin finished Stainless steel cover, they have specially formulated Aluminum Alloy base bodies to optimize durability.
■ Die-cast body of alloy with high strength assures safety and durability.

■ Decorative case punched precisely of stainless steel sheet.

■ Pad of special oxidation resisting material.

■ Suitable for toughened glass doors with thickness of 10 or 12mm.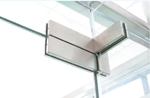 For the Patch Fitting that meets your specific need, choose a picture below and click on it to view price, technical drawing, illustration plus specific product information and order online.