Wall Mounted Door Hinges
Wall to glass (wall mounted) door hinge can be mounted directly to the wall. This allows the glass door to be hinged directly off a wall and provides a simple, elegant look.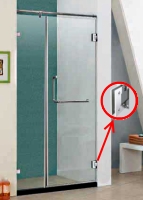 Solid Brass Construction with Precision Machined Stainless Steel Components

Opening: Dual-action spring, opening both inwards & outwards or free swing, opens one way only

Self-closing from approximately 25-30 degree (selected models only)
For details, please choose and click pictures below to view technical drawing, illustration plus specific product information.